Garage Door Solutions started out as a small local family business and has now grown into a large company which provides full garage door services to thousands of satisfied customers in the surrounding areas.
When our company started, with just a small staff, we all agreed to establish a warm family environment between all the workers. This approach has been maintained, throughout the company's existence and growth. This means, that each of our employees receive personal treatment and attention at all phases of their employment, especially in professional training. This invokes the worker to develop and produce a high level of service awareness. This, in turn, produces the high level of service that all our customers receive regularly.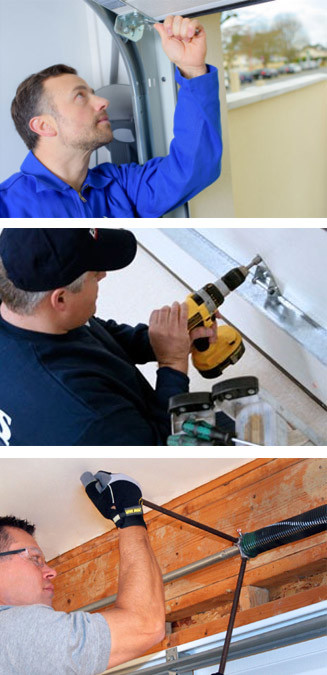 All of our service employees go through a rigorous training program, prior to going out into the field. In addition, all our new service technicians are accompanied by an experienced technician for a period of up to 3 months. This ensures that our customers receive the proper professional service, providing fast complete solutions to the customer's problems. The results are that Garage Door Solutions provides the highest quality service in the area.
As a growing company, it is extremely important to stay fully aware and totally updated in all the latest information and advancements that relate to our industry. This awareness covers the various sectors, whose technologies differ, such as private homes, automotive, industrial and others. In today's quickly changing market, new techniques, equipment and products replace the previous generation almost over-night. Our company maintains a program which continuously keeps all our service technicians up-to-date, by providing periodic training sessions. In this way, we can always support our clients with the best solutions they need.
Our goal is to ensure that Garage Door Solutions will be your choice in selecting a service company and becoming our regular customer. Also, we hope you will confidently recommend us to your friends and acquaintances, knowing that you put them in good hands.
All our technicians are licensed and fully insured. They are required to know all the company's procedures and are updated about any changes in the company and the market.
At Garage Door Solutions, we are aware that the market is extremely competitive; therefore we keep our prices attractive to our customers.
The value in our company is to strive to bring you the most professional service, in the fastest manner, and at the best price possible!"
Rhode Island
Pawtucket • Providence • Cranston  • Warwick • Woonsocket  • Greenwich • Kingstown • Burriville  • Smithdield • Coventry • Foster • Glocester • Johnston • Scituate • Exeter • Hopkinton  • Scituate • Narragansett • Charlestown • Richmond
Massachusetts
Boston • Taunton • Middleborough • Weymouth • Brockton • Fall River • Framingham • Waltham • Attleboro • Dartmouth • New Bedford • Wareham • Plymouth • Marshfield • Brookline • Worcester • Webster • Auburn • Southbridge • Sturbridge • Charlton • Lowell • Westford • Leominster